The benefits of booking
online on our website...
The majority of our rooms
have a view over the Gulf of Ajaccio, discover...
Double sea view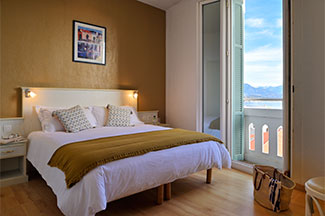 Occupancy 2 pax
15 sqm
Double bed 160cm
Sea view
Double sea view with balcony
Occupancy 2 pax
15 sqm + Balcony
Double bed 160cm
Sea view
Double sea view with terrace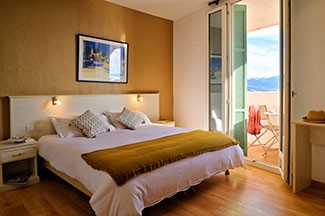 Occupancy 2 pax
15 sqm with Terrace and High Floor
Double bed 160cm
Sea view
Suite
Occupation 2 personnes
21m2 avec terrasse et étage élevé
Lit double 180cm
Vue mer
L'hôtel du Golfe: in the heart of Ajaccio's daily life
Au cœur du centre ville historique,  juste en face du marché d'Ajaccio.
L'Hôtel du Golfe vous offre un emplacement exceptionnel, vue mer sur le vieux port Tino Rossi. Découvrez la ville à pied avec le musée Napoléon,
la maison Napoléon, la citadelle et à 2 min de la plage de Saint-François.
A travers un nouveau projet, une nouvelle équipe, nous vous accueillerons dans le bien-être et la convivialité pour vous faire découvrir l'art de vivre Ajaccien.
Revenons aux choses essentielles, aux bons souvenirs … Bref à la simplicité.
In the heart of the historic city centre, just opposite the Ajaccio market
the Hôtel du Golfe offers you an exceptional location, with a sea view onto the old port Tino Rossi. Discover the city on foot and visit the Napoleon Museum, the Napoleon House,
the citadel and you are just 2 minutes from the beach of Saint-François
With a new project and a new team, we will welcome you in the comfort and conviviality so that you may discover the Ajaccio art of living
Let's go back to the essential things, to good memories… In short, to simplicity.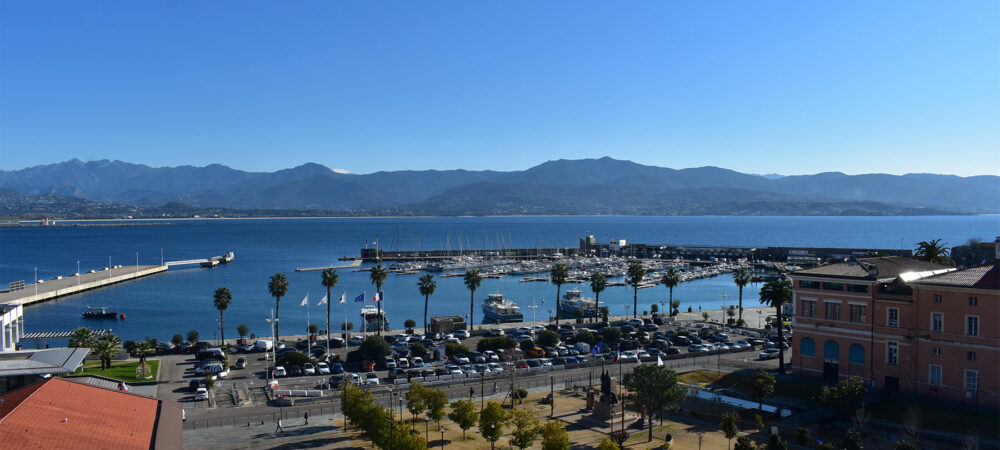 The reasons for choosing l'Hôtel du Golfe
for your stay in Ajaccio
Good to know
Check-in starts at 3 PM. Your luggage will be held until you get the keys.
Check-out is at 11 AM. We can keep your luggage until your departure
You can park in front of the hotel to load or unload luggages.
Car: The nearest municipal parking is 100 meters from the hotel (subject to availability).
Motorbike: There are free parking spaces 20 meters from the hotel (subject to availability).
Bicycle:  You can store you bicyle safely in front of the hotel. (subject to availability)
The nearest charging points for electric vehicles are located:
In front of the Ajaccio city hall, 50 meters from the hotel on avenue Serafini
Parking Diamant, 300 meters from the hotel on avenue Eugène Macchini
Parking de l'Amirauté, 1 boulevard Charles Bonaparte, 500 meters away
Taxi at the airport or to be booked at 04.95.101 901 or at the reception before departure
Bus (Line 8) to the airport and to the train station located 5 minutes by foot from the hotel.
We accept cats and dogs and they must be kept on a leash in the public areas of the hotel
We charge € 10 per pet per night..
The market is located 20 metres from the hotel and is open every morning from around 6:30 AM to 00:30.PM
The beach  « Saint François » 10 minutes by foot
The beautiful beaches of the « route des îles sanguinaires » can be reached by bus (line 5)
We can rent you beach towels or parasols at the hotel reception.
Buffet breakfast: From 7:00 AM to and 9:30 AM (pastries, local products, fruit, dairy products)
« Market breakfast » on the terrace.
It is located 100 metres from the hotel.
You can locate the hotel in the very center of Ajaccio
Fesch museum
Bonaparte museum
Imperial Chapel
Citadelle
Saint François beach
Ferry terminal
Car park Diamant
Charging point
Congress centre